iPHONE | iPAD | WALLPAPERS | PHONE | WALLS |WALL PAPERS
ART-TLC has been making Wallpapers since 1997. Bookmark our sites, for latest iPhone or iPad Wallpapers. Clean iPhone or iPad Wallpaper JPG's are made in graphic programs. Our Wallpapers are family safe with many for children. Sexy theme Wallpapers have all figures in bathing suits or similar clothing. Even Fairy Phone and note pad Wallpapers dressed as seen on public beaches. All ART-TLC Wallpapers have been approved "safe" by McAfee Siteadvisor and Norton Secure.



INSTRUCTIONS

Quick & EASY iPhone Wallpaper
Quick & EASY iPad Wallpaper
Saving Wallpaper
Sync to iPhone
NEXT- ON YOUR iPHONE
ANITVIRUS FALSE POSITIVES


Back to HOME PAGE



Quick & EASY iPhone Wallpaper
1. Tap and hold on the picture you want to save. A menu will pop up, tap the "Save Image" button.
2. Tap on the Photos (sunflower) icon on your iPhone and find the directory where you saved the wallpaper graphic. (If you saved a picture via email or directly from the web, it will be in your Camera Roll folder.)
3. View your chosen image, tap it, then click on the box with arrow icon on the bottom left of your screen. A menu will pop up, click the "Use as Wallpaper" option. You can then move and scale the photo as desired. When you're happy with how it looks, click the "Set" button.

Quick & EASY iPad Wallpaper
1. iPad resolution is 1024 by 768, so for best results, select that size if several sizes exist for the image you are looking at.
2. When you have found an image you want use, tap and hold it until a menu for "Save Image" and "Copy" comes out. Pick "Save Image" and the photo will be saved in your "Saved Photos" location.
3. Then select the "Settings" icon from Homepage and tap it. You'll see a list of options on the left side. Select "Brightness & Wallpaper." Tap that and it will bring up a "Wallpaper" box showing your "Home Screen" on the left and your "Lock Screen" on the right. Click on that box and you'll bring up a list of images to choose from.
*You can also use your PC/Mac to save the images and using sync to bring them to your iPad.



SAVING WALLPAPER to PC or Mac
'Right Click' or 'Control Click' on the image you want to save. Select "Save as...", and save to your hard drive in your picture folder on PC or to your image folder in Mac.

SYNC TO iPHONE
You can sync the iPhone with photos in iPhoto 4.0.3 or on a Mac. You can also sync to Photoshop Album 2.0 or later and Photoshop Elements 3.0 or later on a PC. You can sync with any folder on your computer that contains images. Connect the iPhone to your computer and do the following:

Launch iTunes then click the Photos tab and select "Sync photos from:".



From the pop-up menu, (PC) choose Photoshop Album, Photoshop Elements, or your My Pictures folder, or (Mac) choose iPhoto or your Pictures folder.



Highlight the folder you have downloaded images to, and Choose "All photos,"choose "Selected folders", or "Selected albums" and choose the folders or albums you want to sync.



NEXT- ON YOUR iPHONE
Go to the Photos section of your camera. Browse through the albums or camera roll until you find the picture you wish to use.


Select the picture so it is displayed full screen.



Tap the icon in the lower left corner of the screen. If you don't see the icon, single tap the picture to display the menus.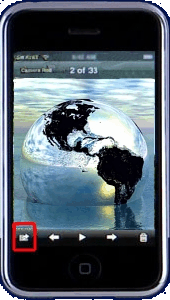 You can also select if you want to email the picture, save the picture as a wallpaper, or assign to a contact.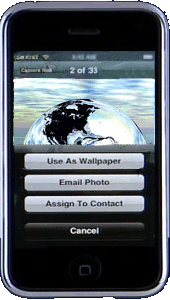 If you want to assign to a contact, press that button. The contact list will open and you can select the contact you wish to link to the picture.



Select Done to complete and enjoy your new wallpaper!




FREE iPhone WALLPAPERS by ART-TLC © 1998-2013
Our Privacy Policy